Combing through all the different wedding hairstyles for long hair to find the perfect style for your own big day can seem like a totally endless process. We get it. When you've got luscious, long hair that frankly seems to have a mind of its own, finding that ideal wedding hairstyle is no easy feat. There are so many wedding hairstyles for long hair to choose from — should you throw it in an elegant chignon, wear it down and flowing around your shoulders, or go for boho-chic braids? The list of wedding hairstyles for long hair seems, for lack of a better word, long. Plus, there are seemingly countless factors to consider — veil or no veil, gown style, wind speed — when choosing your wedding hairstyle. Not to mention the latest beauty trends you'll want to heed. It's enough to make a bride, well, tear out that long, flowing hair. So, if you're trying to find the perfect look for your big day, we've got your back. Here are some of the best wedding hairstyles for long hair that fit any type of celebration.
From half-up styles to boho braids, these wedding hairstyles for long hair are giving us major bridal beauty obsession.
One Side Pulled Back
Marrying on the beach? This look pairs well with any type of relaxed or waterfront setting.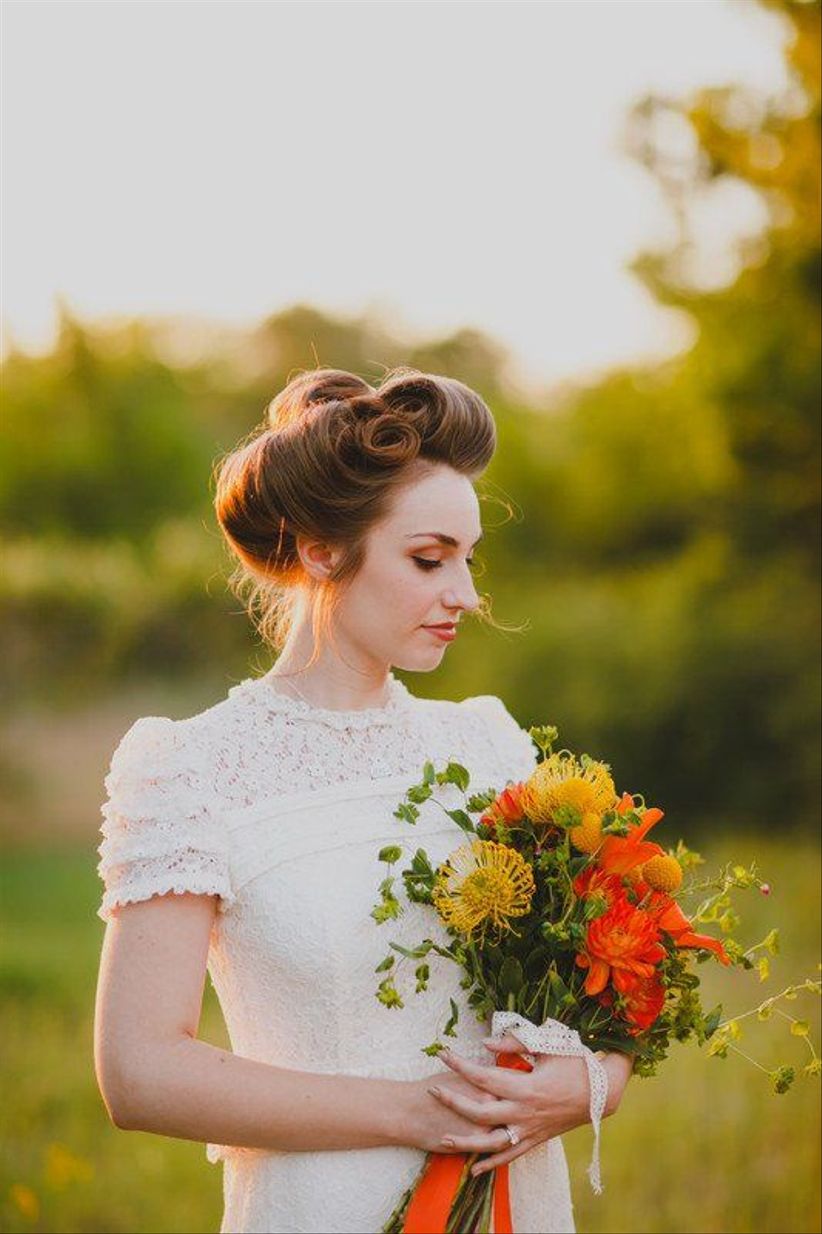 Old Hollywood Glam
Brides with a vintage bridal style will fall in love with this look. The retro updo works well with long hair and is great for keeping your hair out of your face throughout your wedding day.
Half-Up Half-Down
Wedding hairstyles don't have to be perfectly done in order to look beautiful. These curly locks are styled into a partial updo and perfectly complement an outdoor celebration. With just enough pulled back, you won't have to worry about hair covering your face in wedding photos, and you can still show off a stunning back design on your gown. This chic tousled style is capable of creating major hair envy.
Side Swept Ponytail
This couldn't be a more perfect hairstyle for long haired bride. This curly, side swept romantic style would work well in a historic venue. We recommend pairing it with a fitted lace gown and a pearl hair brooch to really give off a vintage vibe.
Braided Updo
Talk about an elaborate updo! This intricate wedding hairstyle is perfect for brides with long locks. A style that involves curls, twists, and a whole lot of bobby pins, is sure to turn heads on the big day. This is a great way to keep long hair off your back and out of your face on an especially hot day.
Fishtail Braid
Consider a more casual approach to your bridal beauty style, like this braided fishtail 'do. Inspired by a rustic, outdoor celebration, this unique braid is a great wedding hairstyle for long hair, especially for brides seeking something more simple. Use minimal hair products and let the hair fall naturally out of the braid for an undone look.
Braided Chignon Bun
Having long hair can be a double-edged sword at times. While it can be a lot to maintain on a daily basis, you have a lot of different wedding hairstyles to choose from. This intricate braided chignon bun complements the headband braid perfectly, and works as a great alternative to a simple updo. This wedding hairstyle for long hair is a great outdoor wedding 'do since the wind and other elements won't ruin the style.
Down with Waves
For brides with long hair that responds well to a curler and various styling products, we recommend a romantic wavy 'do like this one. It's a perfect way to show off your glamorous side, and wedding guests swoon over this wedding hairstyle. Try this out if you're getting married inside, where weather will be less of a factor.
Donut Bun
A donut bun — also called a sock bun when there's, you know, a sock used to style it — is an ideal go-to wedding hairstyle for the no-fuss bride. This 'do allows you to dance the night away without worrying about your hair coming out or falling in your face. Longer hair is preferable to achieve the perfect top bun. An added bonus of this glamorous 'do? It'll make you look a few inches taller, so feel free to ditch the heels.
Side Swept Braided Knot
This braided updo is made complete with woven florals. It creates an effortless bridal style and is a perfect wedding hairstyle for long hair, especially for brides marrying in an outdoor setting, such as a romantic garden.
Half-Up Braided Crown
If you're in search of something soft and romantic yet practical, we've got the perfect wedding hairstyle for you. The half pulled back hairstyle for long hair gives off an ethereal vibe while serving a practical purpose. The braids add a unique twist to an otherwise classic 'do.
Braided Bun with Flowers
For a romantic spin on the traditional wedding updo, opt for a high bun embellished with a braided crown and headpiece of fresh flowers and greenery. This wedding hairstyle for long hair is ideal for brides worried about wind, dancing or other elements damaging their look — an updo like this has major staying power.